Altro Commercial Flooring Products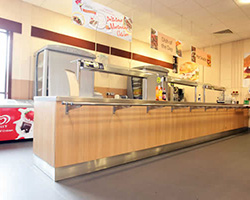 Durable Safety Flooring
This 2.5mm thick hard-wearing safety flooring includes decorative coloured quartz crystals in exciting base colours to create the effect of tonal variety to enhance any interior scheme. In practical, dirt hiding colours, it gives you design flexibility and the scope to colour co-ordinate.
Altro Designer 25 is highly flexible and easy to install. It can be easily hot welded to produce an impervious floor, minimising the ingress of dirt and helping maintain hygiene standards. Featuring silicon carbide and aluminium trioxide, the long-term durability and slip resistance ideally lend it to applications in heavy duty environments.
It provides excellent protection against point loading damage making it ideal for installation in areas with moveable or wheeled furniture and in hospital service corridors, where it gives feet more purchase as trolleys are pushed up ramps, minimising drag. Designed for low maintenance, it features Altro Easyclean Original Technology for a lasting attractive appearance and savings in time and cleaning costs.
Click here to see the range of styles for this product.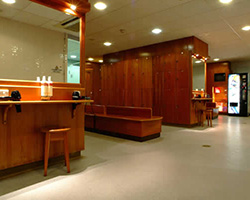 Studded Safety Flooring for Wet Areas
The carefully textured 2mm thick dimpled surface of Altro Marine™ is specifically designed for safety with wet, bare feet or soft soled footwear. Comfortable underfoot, it affords superb slip resistance when wet, making it ideal for use in shower and swimming pool surrounds as well as other wet areas requiring slip resistance, such as care home bathrooms.
It contains a bacteriostat to minimise the growth of micro-organisms, such as MRSA, reducing the risk of cross-contamination and potential subsequent litigation claims.
Easy to clean and maintain, its hard-wearing construction provides enhanced chemical and indentation resistance, resulting in a longer life expectancy.
Click here to see the range of styles for this product.

Commercial Kitchen Flooring for wet & greasy conditions
A 3mm thick flooring designed for safety in wet and greasy conditions where frequent spillage is likely, this product is ideal for commercial kitchen flooring. Boasting Altro's highest rating for slip resistance, it minimises slip risk in areas of heavy traffic. Altro Stronghold™ 30 features an integral cushion layer, making it comfortable to walk on, thereby reducing fatigue for staff and offering better sound absorption in noisy environments. It combines excellent slip resistance with long term durability and ease of cleaning.
Click here to see the range of styles for this product.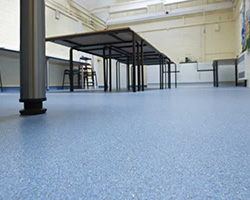 Versatile Hard-Wearing Safety Flooring
Altro Walkway™ features bright and subtle colours, as well as decorative chipped options. The varied selection of 23 provides enhanced design flexibility for broad applications in functional areas and can be complemented by the new 19 fresh and modern colours of Altro Walkway Plus™ in public areas. Altro Walkway / Plus shares its colour range with Altro XpressLay / Plus, enabling you to combine use of both ranges to suit the application.
Easy to cove and weld, it affords reduced installation costs. Altro Walkway achieves 36 and above on the pendulum test throughout the lifetime of the product. It is fully backed with a 10 year warranty and boasts a life expectancy of 15 years, affording you complete peace of mind.
Click here to see the range of styles for this product.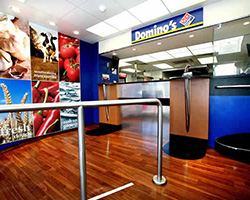 The new Altro Wood Safety™ range of 16 offers a combination of classic, contemporary classic and on trend designs, which are ideal in locations where first impressions count and you can't afford to compromise on safety. They combine well with any contemporary situation, including monotone, sophisticated areas of metals, glass, bright and mood lighting, while also co-ordinating well in more vibrant locations where any potential clash with colour is to be avoided.
The new palette enables you to vary the mood from cool and classy for spas and hospital receptions to warm and nurturing for the hospitality and care sectors. The sparkle-free finish makes it particularly ideal for application in dementia settings.
Click here to see the range of styles for this product.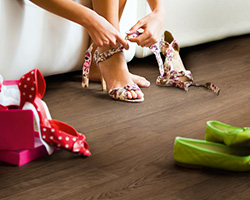 This new wood-look smooth flooring brings warmth to any environment. Altro Wood Smooth™ shares its palette with the new Altro Wood Safety range and has been designed to work in conjunction with it in those areas where you require different levels of slip resistance without compromising on aesthetics. It is easy to maintain and can be welded to provide a hygienic surface, making it ideal for areas where infection control and high standards of cleanliness are required.
Click here to see the range of styles for this product.

Altro Wood Smooth Acoustic™ allows you to extend the use of the Altro Wood range into those areas where noise reduction matters to improve the wellbeing of users.
Click here to see the range of styles for this product.