Altro: Designer 25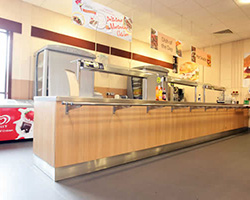 Durable Safety Flooring
This 2.5mm thick hard-wearing safety flooring includes decorative coloured quartz crystals in exciting base colours to create the effect of tonal variety to enhance any interior scheme. In practical, dirt hiding colours, it gives you design flexibility and the scope to colour co-ordinate.
Altro Designer 25 is highly flexible and easy to install. It can be easily hot welded to produce an impervious floor, minimising the ingress of dirt and helping maintain hygiene standards. Featuring silicon carbide and aluminium trioxide, the long-term durability and slip resistance ideally lend it to applications in heavy duty environments.
It provides excellent protection against point loading damage making it ideal for installation in areas with moveable or wheeled furniture and in hospital service corridors, where it gives feet more purchase as trolleys are pushed up ramps, minimising drag. Designed for low maintenance, it features Altro Easyclean Original Technology for a lasting attractive appearance and savings in time and cleaning costs.