Polyflor: Polysafe Hydro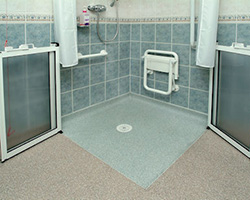 Polysafe Hydro is a safety vinyl flooring range combining the assurance of sustainable slip resistance with high durability for years of performance in continually wet, barefoot & shod areas.
Available in 8 colours in either a traditional or multi-chip design, the range features safety aggegrates in the vinyl and a raised pimple emboss for added grip and underfoot safety, to create a safe interior in commercial or residential areas. Highly suited to disabled adaptations.