Tarkett: Tapiflex Essential 50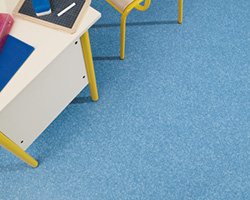 The optimal balance between sound reduction and durability in a range that offers natural finishes such as wood and stone and soft designs.
Wide colour ranges and versatile designs
High sound reduction (19 dB) with unique
indentation properties (0.15 mm)
New TopClean PUR: easy, low-cost maintenance
Excellent resistance to scratches and abrasion, scuffing,soiling and staining
Glass fibre non-woven reinforcement: unique dimensional stability
Tapiflex Essential 50 collection puts the emphasis on using colour to create sophisticated and sensational design, which makes it a popular choice for heavy traffic areas for education, healthcare, aged care and commerce. The surface benefits from TopClean reinforcement which means no wax and no polish and good cleaning and maintenance properties.